Cheesecake With Berry Topping ~ Gluten free option
This post may contain affiliate links. That means if you click and buy, I may receive a small commission (at zero cost to you). Please see my full disclaimer policy for details.
Cheesecake has got to be my family's favorite dessert, especially with this berry topping. It is requested at almost every holiday.
Make extra topping because it's amazing on ice cream too.
We have had tried many kinds and flavors… chocolate, caramel, peanut butter, chocolate chip, and pumpkin to name a few. But this cheesecake with berry topping seems to rank highest, and it is so pretty to serve. In fact, this cheesecake is even requested for birthdays instead of cake.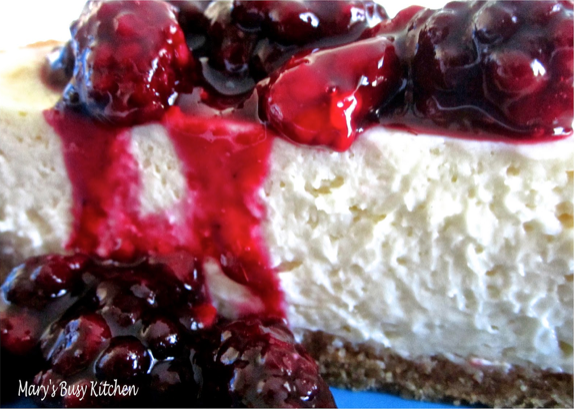 If you thought cheesecake was too hard to make or you have been afraid to try, I hope to change your mind today. Anyone can make this recipe, even a beginner cook!
First things first:
~ Purchase a springform cheesecake pan. I prefer the 9-inch size.
~ The night before I place a 10-oz. or larger bag of frozen berries in a bowl to defrost. Leave the berries in the refrigerator overnight.  Any flavor of berries is fine. Raspberry, Marion-berry, and Boysenberry are my favorites. The tartness of the berries is a yummy contrast with the cheesecake.


Cheesecake With Berry Topping                 Serves 8
Cheesecake Ingredients:
1/1/4 cups graham crackers crumbs (if making gluten-free, use 1 1/2 cups gluten-free graham cracker crumbs)
1/4 cup sugar
1/3 cup butter, melted
2 (8-ounce) packages cream cheese, softened
1 (14-ounce) can sweetened condensed milk
3 eggs
1/4 cup ReaLemon Lemon Juice from Concentrate
10 oz or larger bag of frozen berries.
Small jar of berry jam, any flavor of berries.
1 Tbsp cornstarch.
Preheat oven to 300
Directions for crust:
Combine graham cracker crumbs, sugar, and butter in a small bowl.
Graham cracker crumbs can be purchased "as crumbs" or you can buy the whole crackers and crush them yourself. It is cheaper, and it's quick and easy to crush them yourself.
Put whole crackers in a zip-lock bag and make sure you seal it tight without capturing any air. Rollback and forth over the bag by rolling a pin until crackers are nice even crumbs.
Measure crumbs and mix them with sugar.
To melt the butter, I use a custard dish and microwave for about 12-15 seconds. Then add to the crumb mixture.
Mix well. I find a fork works best.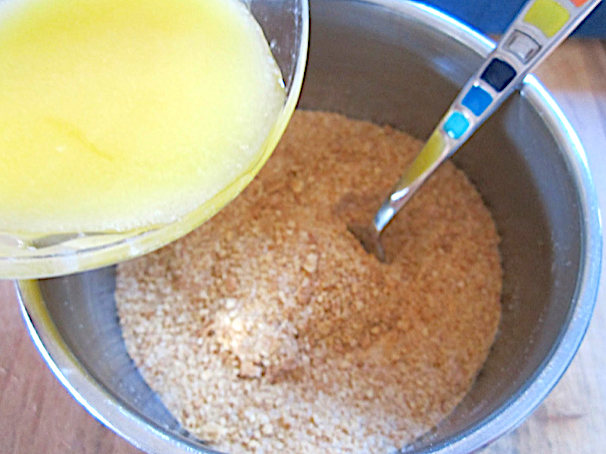 Press the crumb mixture on the bottom of the springform pan and just slightly up the sides.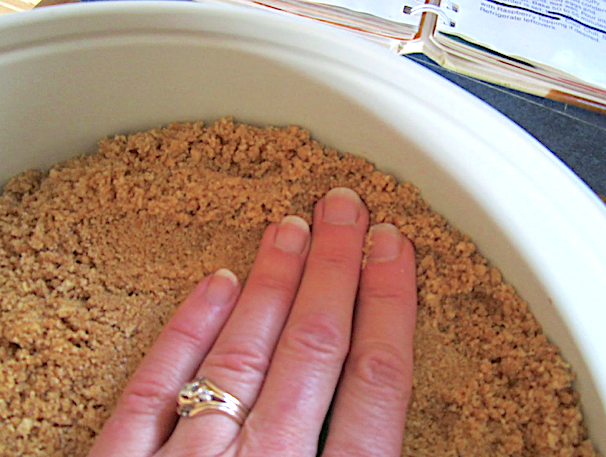 Now you are ready to make the filling.
Directions for filling:
In a mixer bowl add both packages of cream cheese. Beat until smooth.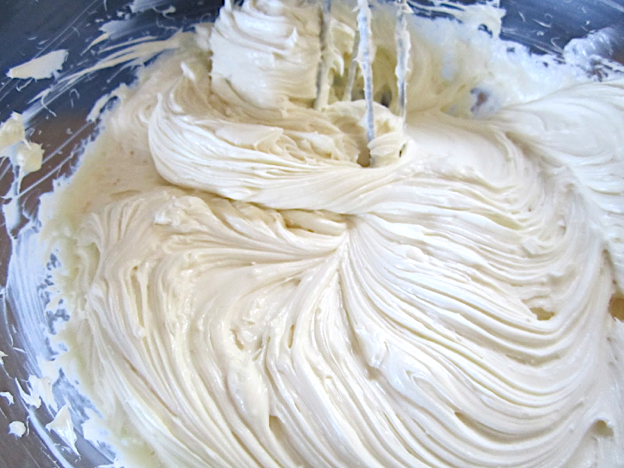 Pour in sweetened condensed milk and mix well.
Add eggs and lemon juice and mix well.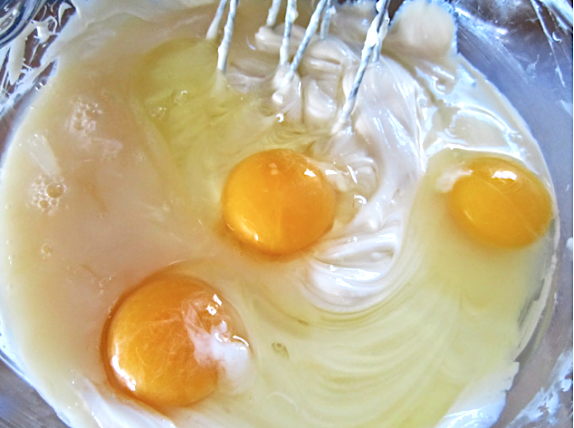 Mix well until smooth and pour into the prepared crust.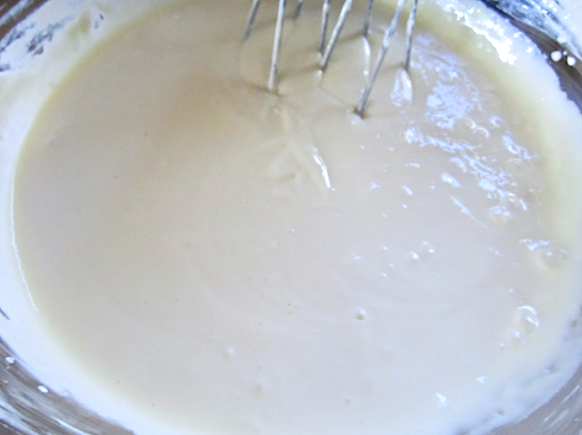 That's it…pretty darn easy.
Place in the center of your oven to bake.
Bake for 50-55 minutes. Check after 50 minutes. When lightly touched it should spring back. Don't overbake; the center should just be set, not rubbery.
**Please Note:
Here is my big secret to a perfect cheesecake.  When the cheesecake is done, leave it in the oven with the door ajar for about 40 minutes or until it reaches room temperature.
Remove from oven and let cheesecake finish cooling on a wire rack. Refrigerate when the cheesecake is at room temperature. Leave in the refrigerator until ready to serve. Cheesecake is served chilled.
To remove cheesecake from the springform pan carefully run a sharp knife along the outside edge.
Unlatch the pan and lift the outside ring away from the cheesecake.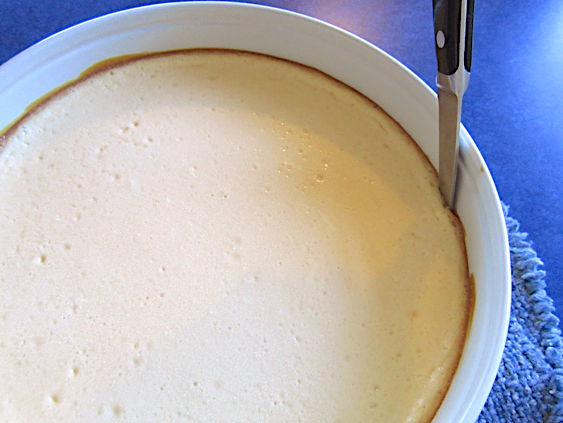 The finished cheesecake…Wow, you did it!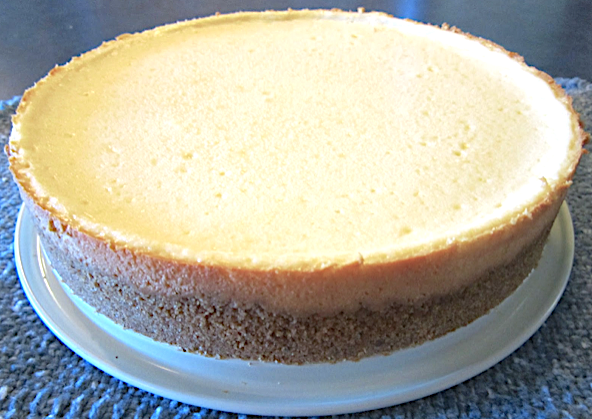 Directions For Berry Topping:
Drain the juice from a 10oz or larger bag of thawed berries, there should be about 2/3 -3/4 cup.
Pour into a medium-size saucepan.
Add 1/4-1/3 cup berry-flavored jam. Any flavor will work. I use strawberry or raspberry.
Stir in 1 Tbsp. of cornstarch and mix well.  Simmer until mixture thickens, stirring constantly.
Add defrosted berries from the bag and gently fold in.
You can use topping immediately or chill it first.
Slice your cheesecake into 8 pieces.
It's nice to let each person spoon the topping on their piece of cheesecake.
**Be sure to freeze any leftover topping in small containers for later. This sauce makes a perfect berry sundae.
.You could also serve your cheesecake with some fresh fruit that is in season. And some people might like their piece of cheesecake plain.
We even have found we like a scoop of vanilla ice cream on the side too.  I'm sure you will soon have a favorite way to eat this cheesecake too!!
Enjoy!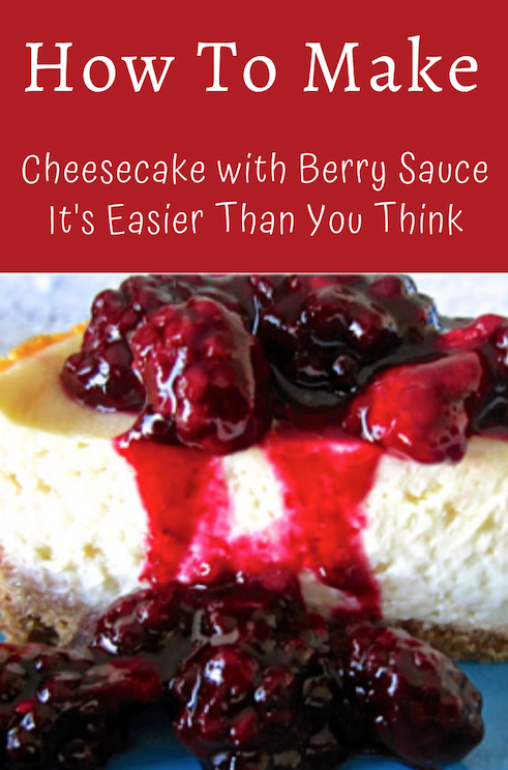 SaveSave
SaveSave
SaveSave
SaveSave
SaveSave
SaveSave
SaveSave
SaveSave
SaveSave
SaveSave
SaveSave
SaveSave
SaveSave