Frozen Fruit Bars
This post may contain affiliate links. That means if you click and buy, I may receive a small commission (at zero cost to you). Please see my full disclaimer policy for details.
Refreshing frozen fruit bars are easy to make, and everyone loves them. Fruit bars and popsicles are a great way to cool off during the warm summer months and use up any extra fruit sitting around. As a bonus, no ovens are needed to make a special treat.
There are lots of reasons to love these healthy homemade fruit bars and my top three reasons; they are free from:
Preservatives
Dyes
Artificial sweeteners
Just about any fruit can be whipped up in a blender or pureed and poured into the popsicle molds. Here are some recipe variations for frozen fruit bars:
Adding yogurt – flavored or plain
Including a natural sweetener like honey or pure maple syrup
Use non-dairy milk, coconut milk, juice, or water
Fruit used whole (like berries), sliced, chopped, and/or pureed
You will need some type of upright heavy-duty blender to puree the fruit. I used a Vitamix for my fruit bars. I have had my Vitamix for years, and it has been worth every cent!
In my experience, I have found that Silicone popsicle molds are extremely user-friendly.
Frozen fruit bars can be removed easily from the molds and are dishwasher safe for quick and easy cleaning.
One frozen bar can be taken from the silicone mold at a time.
Popsicle sticks are attached to the ends of the molds, making them straight and easy to hold.
The silicone molds sit on a flat in the freezer, so you don't have to worry about spills.
This Allergy-Friendly Chocolate Shake recipe would be perfect as a frozen fruit bar too.
Try this delicious frozen treat too. Smooth out any type of vanilla yogurt on a flat parchment paper-covered cookie sheet and sprinkle nuts and chocolate chips over top. Freeze until solid. Break off chunks and enjoy! It makes an incredibly delicious frozen treat that tastes a lot like cheesecake.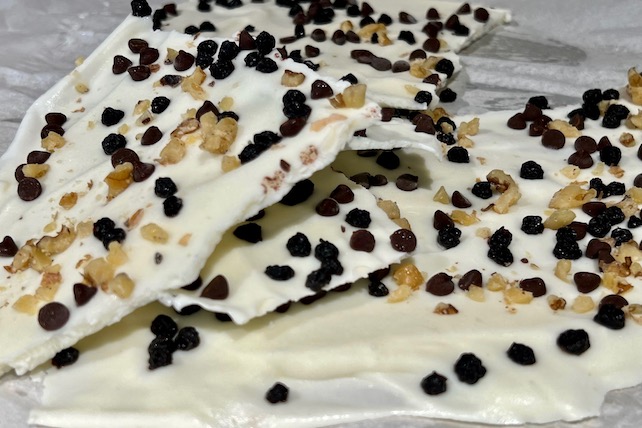 To Make The Frozen Fruit Bars You Will Need:
Ripe bananas
Strawberries or other fruit ~ I used a mixture of raspberries and strawberries
Juice of choice like apple, orange, or pineapple. Water is also an option or any type of milk, non-dairy or regular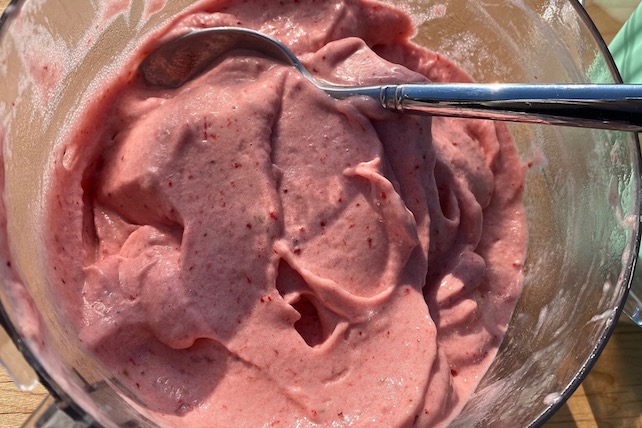 I don't worry about exact amounts; if you have some leftover pour the remaining mixture into ice cube molds for mini frozen fruit treats. Add a wooden popsicle stick when the ice cubes are partially frozen.
More Flavor Combinations To Try:
Strawberry and kiwi
Mango and orange
Mixed berries and peaches
Orange and pineapple
Add vanilla yogurt ~ dairy-free if needed for different textures
Fruit bars might take up to 8 hours to freeze as freezers vary.
Print Recipe
Frozen Fruit Bars
Quick and easy homemade frozen fruit bars made with healthy ingredients and no dyes or artificial sweeteners. A refreshing low-calorie treat for everyone to enjoy.
Ingredients
1

large

Ripe banana

2

cups

Large strawberries

~ or other fruit of choice

1/4

cup

Juice, milk, or water

~ examples: apple, orange, or pineapple
Instructions
Blend all of the ingredients in a blender or Vitamix on high speed until smooth. You will need to scrape down the sides of the blender a couple of times during the blending. Blending will take about 1 1/2 to 2 minutes. Add more juice if needed for preferred consistency.

Pour the pureed mixture into popsicle molds. Freeze for 6-8 hours or until frozen.

For easy removal from molds run the mold under warm water for a few seconds.
Nutrition
Serving:
1
Fruit Bar
|
Calories:
40
kcal
|
Carbohydrates:
10
g
|
Protein:
1
g
|
Fat:
0.2
g
|
Saturated Fat:
0.03
g
|
Polyunsaturated Fat:
0.1
g
|
Monounsaturated Fat:
0.03
g
|
Sodium:
1
mg
|
Potassium:
165
mg
|
Fiber:
2
g
|
Sugar:
6
g
|
Vitamin A:
20
IU
|
Vitamin C:
30
mg
|
Calcium:
10
mg
|
Iron:
0.3
mg