Rhubarb & Peach Crisp ~Gluten and dairy-free
This post may contain affiliate links. That means if you click and buy, I may receive a small commission (at zero cost to you). Please see my full disclaimer policy for details.
I have a pretty good feeling you're going to be a big fan of this Rhubarb & Peach Crisp, in fact, it might even be a game-changer for those new to baking with rhubarb.
In case you wondered, rhubarb doesn't always have to be combined with strawberries…this time I combined it with some freshly picked peaches.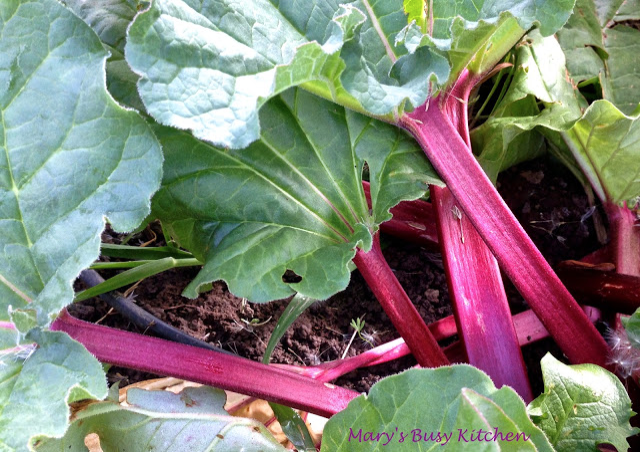 Rhubarb is one of my favorite ingredients for fruit crisps and pies. It seems to just add that magic touch to so many combinations. Try it with berries and in a crisp or pie and I think you will see what I am talking about.
This is a fun plant to grow because it doesn't require a lot of special attention and it will live in the garden year after year through all the seasons, which is perfect for me…
Rhubarb is hearty, colorful, and healthy. You can use it fresh or freeze it to use later.
To freeze I just cut the stalks into 1-inch pieces and place in a good quality freezer bag.
Did you know rhubarb is a vegetable with these health benefits?
~ Good source of antioxidants
~ fiber rich (a natural laxative)
~ high in vitamin K which supports healthy bone growth
~ a very good source of vitamin C, potassium and manganese
Rhubarb & Peach Crisp                Serves 8-10
3 cups fresh or frozen peaches cut into medium size chunks. (Defrost if using frozen peaches.)
3 cups fresh or frozen rhubarb, cut into small pieces. (Defrost if frozen.)
1/2 cup granulated sugar.
2-3 Tbsp corn starch
1 tsp vanilla extract
2/3 cup flour, gluten-free if needed.
1/2 cup quick-cooking oats, gluten-free if needed.
1/4 cup brown sugar.
1/2 tsp cinnamon
1/4 cup cold butter, or non-dairy substitute such as Earth Balance Vegan Buttery Sticks.
2 Tbsp walnuts, chopped finely.
Preheat oven to 350. Prepare an 11″x7″ oblong pan with a non-stick spray. (Or similar size.)
In a medium saucepan, combine sugar and cornstarch. Stir in peaches and rhubarb, blending all ingredients. Bring to a boil and cook for 1-2 minutes stirring gently.
Remove from heat and stir in vanilla. Pour mixture into prepared baking pan.
In a small bowl combine flour, oats, brown sugar, and cinnamon.
Cut in butter until mixture becomes crumbly.
Sprinkle flour mixture evenly over fruit. Bake for 30-40 minutes. The filling should be bubbly and turning a nice golden brown.
We served ours with frozen peach sorbet.
To make sorbet add:
2 frozen bananas, cut up.
1 peach (not frozen)
1 tsp vanilla extract.
Mix in a sturdy food processor, stirring occasionally until creamy and smooth.
Enjoy!
You might also like to try my personal favorite Gluten-Free Rhuberry Fruit Crisp.