Spring Rolls & Homemade Peanut Sauce ~ Gluten-free
This post may contain affiliate links. That means if you click and buy, I may receive a small commission (at zero cost to you). Please see my full disclaimer policy for details.
These spring rolls are fun to make and surprisingly filling! Spring rolls are also a clever way to get kids to eat new vegetables. Spring rolls are perfect for warm summer days when you don't want to turn on the oven, and they are pretty darn quick to make. Of course, you won't want to save them just for summer!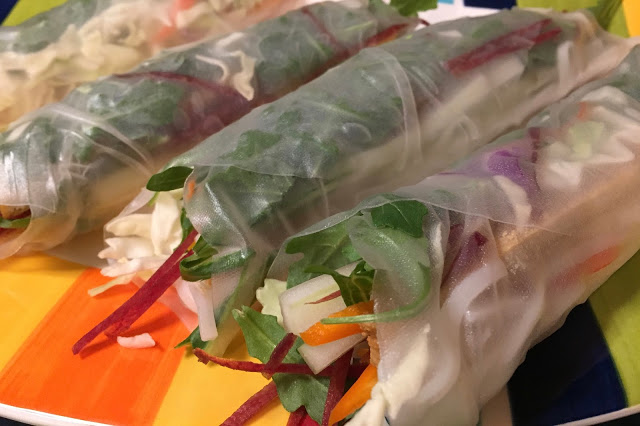 There are lots and lots of sauces available in the grocery stores, including peanut sauce. I am sharing my favorite peanut sauce recipe in case you prefer making one.
My husband likes to dip each bite in a different flavored sauce…so we serve several kinds with our spring rolls.
Peanut Sauce is incredibly flavorful and this homemade recipe is quick to whip up.
Tips On Prepping Spring Rolls:
1. Be patient, be gentle, and don't expect perfection!
2. It is easier to have all the ingredients cut ahead when making spring rolls. I put everything on a large cookie sheet next to a large bowl of water where I will be dipping the wrappers. It's much easier when everything is close at hand.
3. Rolling and wrapping the spring rolls takes practice. The wrappers are quite fragile after they are dipped in the water…and quite sticky after they are wrapped.
4. The package suggests placing the dipped wrappers on a clean tea towel. I used a plastic cutting surface because I wanted something firm to roll them on, and it worked great.
Place the fillings in the middle of the prepared spring roll wrapper and basically wrap it like a burrito closing the ends.  Cut the wrapped spring roll in half to serve.
I usually make 8 or 9 spring rolls so we can have leftovers for lunch the next day.
Amounts for spring rolls vary and don't have to be exact.  I like lots of colors in mine and it's fun to experiment.
Here Are Some Ingredients You Might Use In Spring Rolls:
1. Seasoned tofu, cooked chicken breast cut into strips or shrimp   – I use leftover seasoned tofu from BLTs. (I always make extra seasoned tofu)
2. Sweet peppers cut into strips – any color is fine.
3. Colored carrots ~ peeled and cut into strips.  I used purple in the spring rolls shown here.
4. Shredded cabbage.
5. Arugula
6. Cooked rice sticks ~ I boil them for about 7 minutes or until soft.  Strain off the hot water, rinse with cold water, and lay them out flat. That's where the cookie sheet idea is helpful too.
7. Green onions, cilantro, avocado, and cucumber.
Let Me Explain A Little About These Wrappers And How It's Done:
1. Prepare wrappers following package instructions – I suggest using a large bowl or something with a flat surface. 2. Add lukewarm water, enough to cover the wrapper.
3. Set one wrapper at a time in the water and gently push it towards the bottom of the bowl.
4. I gently touch the edges as it softens in the water. It takes about 10 seconds to soften.
5. Carefully remove the softened wrappers and place them on a clean surface. I have a dishtowel close by if things get drippy.
6. Place the fillings in the middle of the prepared wrapper.
7. Roll up starting lengthwise kind of tucking in the fillings with the edge. Then continue to roll folding in the ends.  8. Cut in half with a sharp knife.
And now for the beloved peanut sauce…
Peanut Sauce
1/2 cup peanut butter, I used crunchy
2 Tbsp hoisin sauce, I used gluten-free.
4 tsp soy sauce, I used gluten-free
1 1/2 – 2 tsp minced garlic, I use 2 rounded tsp.
2 tsp Sriracha sauce, 1 1/2 for less spicy.
4-6 Tbsp warm water ~ depends on the desired consistency.
Mix it all together in a small bowl and serve immediately or chill.
Dip the spring rolls in peanut sauce and enjoy every bite!!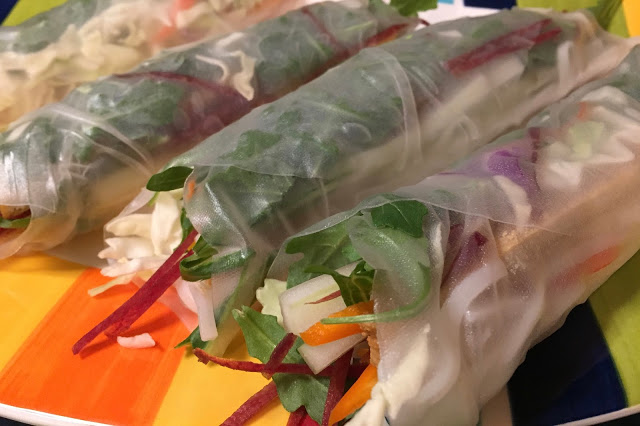 SaveSave
SaveSave
SaveSave
SaveSave
SaveSave
SaveSave