Seasoned Chicken Breasts
This post may contain affiliate links. That means if you click and buy, I may receive a small commission (at zero cost to you). Please see my full disclaimer policy for details.
I know this seasoned chicken breast recipe is painfully easy and possibly boring for a food website. But I must tell you it is absolutely insanely useful to have in the freezer.
Give it a try and see if you agree!
I like to have food on hand and available when I'm short on time. One of the most useful foods I can think of to have on hand is precooked and cubed seasoned chicken. I keep it in the freezer at all times, and when I run out it is the first thing back in the oven.
This recipe is delicious right out of the oven for dinner or cubed and used in enchiladas, tacos, nachos, soups, chicken alfredo or salads. It is very easy and pretty much mess-free.
Here is what you will need:
– chicken breasts ~ I use frozen ones. Since I live in a small town I buy in large quantities when I go shopping.
– Seasonings.
The first thing I do is fill two large baking sheets with a single layer of chicken.  If you line baking sheets with foil the clean up is easy and the foil is recyclable.
Next, I grab my favorite McCormick Grill Mates Montreal Chicken seasoning and if it is available to you Kroger Grill Time Chicken Seasoning. From my research these are gluten-free. Some McCormick spices do have gluten so you have to read the label carefully or look it up on the internet. I usually do both.
If you can only get the McCormick in your area don't worry, that is the most important one. The chicken will be great with just that one. You will simply shake the spices over one side of the chicken.
That's pretty easy, right?  I like easy. Next, you will take another piece of foil and cover the chicken while you bake it for the first 40min.
Bake the chicken in a 375 oven.
Again, keep covered for the first 40 min. Remove from the oven and remove the foil from the top. Turn chicken breasts over and season the new side. If there is a lot of moisture in the bottom of the pan don't worry just leave it there around the chicken, it will cook away.
Return chicken to the oven but keep it uncovered this time. Bake for 20 more minutes or until there is no pink on the inside.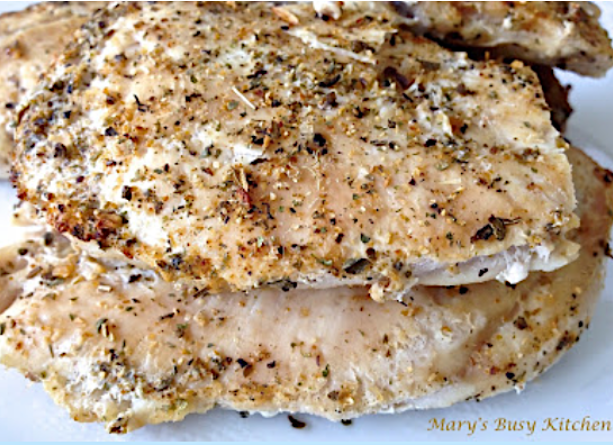 Serve now, or cut in cubes to freeze for later.  It just takes a couple of minutes in the microwave to defrost a small bag of the chicken cubes for one or two people.  I hope you find this recipe as useful as I do.
If you count Weight Watcher Points Plus it counts as the same as plain chicken, 1 point per ounce.
Enjoy!