Quick Homemade Dinner Rolls ~ Gluten-free option
This post may contain affiliate links. That means if you click and buy, I may receive a small commission (at zero cost to you). Please see my full disclaimer policy for details.
Wow…hard to believe fresh homemade dinner rolls in 30 minutes from prep time to the table! And more great news…these have no added fat!
I've made these with all whole wheat flour, half whole wheat & half unbleached all-purpose flour, and whole wheat pastry flour. My husband likes them best with unbleached all-purpose flour.
They remind us of a restaurant we used to love going to, Mazzi's. Does anyone remember this place? Some may still be around, but the closest to us is two hours away. A four-hour drive for dinner. YIKES! They have the most amazing calzone on the planet!! In fact, that's what prompted me to come up with my own recipe, Easy Calzone!
You may recognize this dinner roll recipe if you have tried the Soft Pretzel recipe.  Yup… the same recipe, just a matter of a tighter twist of the dough. I think you will find yourself using this recipe over and over again. I sure do!!
To Make Quick Homemade Dinner Rolls, You Will Need These Ingredients:
Dry yeast
Warm water (about 105F)
Salt
Sugar
Flour
Egg (omit for vegan) brushing with melted Earth Balance

is optional.
To Make Gluten-free Rolls:
Enjoy, and then…Try Leo's Italian Flavored Quick Dinner Rolls too!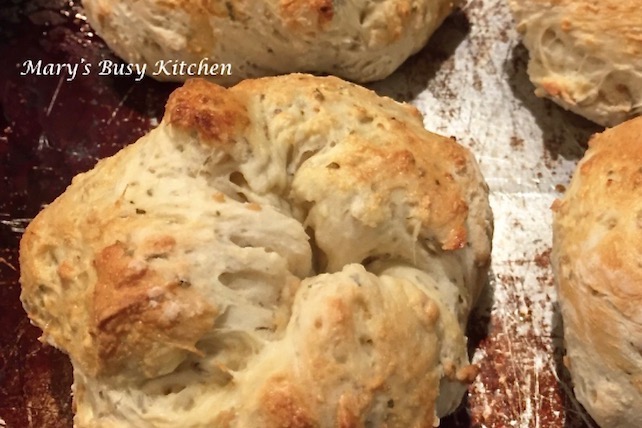 Print Recipe
Quick Homemade Dinner Rolls
Fresh homemade dinner rolls that you can make in less than 30 minutes.
Ingredients
1 1/2

tsp.

dry yeast

3/4

cup

warm water

about 105F

1/2

tsp.

salt

1 1/2

tsp.

sugar

2

cups

flour

1

beaten egg

omit for vegan brush with melted Earth Balance is optional.
Instructions
In a medium-size bowl, pour in warm water and sprinkle yeast over the water.

Stir to dissolve. Let sit a minute. Add salt, sugar, and flour in that order. Mix well.

Add more flour if necessary to form the dough into a nice ball.

Knead the dough for 3-5 minutes until smooth and elastic. Flour work area as needed.

Divide the ball of dough into 4 sections.

Shape your dough into snug pretzel shapes with very little or no gaps.

Roll a section of the dough into a snake shape, not as long as you would for the pretzels.

Take the two ends, bring them towards you, cross the two sections, and bring the ends to the top. Now just flip the roll over. It doesn't have to be perfect or exact. The shape is going to expand in the oven as it cooks. It's all for fun. Create your own shape!

Lay rolls on a greased baking sheet or spray with cooking spray.

Brush each roll lightly with beaten egg (vegans omit or use melted Earth Balance), careful to not let it run down the sides, as it can cause burning on the bottom.

Bake for 10-12 minutes.

We cut them open and eat them with butter, Earth Balance for vegans! Yum, they are fantastic.

Gluten-Free Dinner Rolls

Replace flour with this homemade gluten-free all-purpose flour blend:

1 cup of rice flour

1/2 cup tapioca starch/flour

1/2 cup cornstarch or potato starch

1 1/2 tsp Xanthan gum or Guar gum

Or use your favorite gluten-free flour blend, but be sure to include the xanthan gum.

Follow instructions above for mixing and baking.
Notes
**If you count weight watcher points, count 7.5 for each roll. They are large rolls; you could always make them half this size.
Nutrition
Serving:
1
Roll
|
Calories:
241
kcal
|
Carbohydrates:
50
g
|
Protein:
7
g
|
Fat:
1
g
|
Saturated Fat:
1
g
|
Sodium:
241
mg
|
Potassium:
85
mg
|
Fiber:
2
g
|
Sugar:
2
g
|
Vitamin C:
1
mg
|
Calcium:
10
mg
|
Iron:
3
mg