Cheesy Chicken Enchiladas ~ Gluten & Dairy-Free options
This post may contain affiliate links. That means if you click and buy, I may receive a small commission (at zero cost to you). Please see my full disclaimer policy for details.
Here is a great way to use leftover chicken, turkey, or beef. Since my family prefers chicken, we will use the name chicken enchiladas knowing any meat could be substituted.
Enchiladas are super easy to put together.  You can make as few as one or two, or as many as a 9″x13″ pan can hold.
First things first… You will need to decide how many enchiladas you are going to make.
If you are making a large amount you will want to use the oven, if you are making just a few then the microwave is an option as well.
As a note: if you are planning on making these from scratch and need to cook the chicken. One whole chicken simmered 45-60 minutes, should easily make enough enchiladas to fill a 9″ x 13″ size pan.
Let chicken cool before trying to skin and bone it so you don't burn your fingers.
I have been in a hurry before and not waited for the chicken to cool…OUCH!
Cheesy Chicken Enchiladas
Enchilada Sauce and Enchilada Filling:
2 cups salsa, any kind, pureed ~ I prefer Pace Picante Sauce Medium.
1 -16 oz can tomato sauce
1/2 to 3/4 cup water (optional depending on desired consistency)
2 tsp. chili powder
1/2 tsp. cumin
1/2 tsp. cayenne pepper
Chicken, turkey, or beef cooked and cubed or shredded. For vegetarian enchiladas fill with cheese, or beans and rice.
Grated cheddar or a Mexican blend cheese. Dairy-free diets could use Follow Your Heart or Daiya Shreds.
Soft flour or corn tortillas – any size or flavor you like
Olives, sliced (optional)
Prepare sauce using the first 6 ingredients:
Simmer in a medium saucepan for 5-10 minutes. (I usually double the sauce for extra)
Cut up meat in small chunks or shred if you haven't already done so.
Put meat in a medium-size bowl. Add some of the prepared enchilada sauce to the meat mixture just to moisten, mix together well.
For one or two enchiladas:
Spoon some enchilada sauce on the bottom of a microwave-safe dish.
Rectangle pans and glass pie plates work well.  Dinner plates for single servings.
Grab a flour (or corn tortilla for gluten-free), and add about 1/2 cup of prepared meat across the middle, top with cheddar or a Mexican blend cheese.
Roll up the tortilla and place it in a dish on top of the enchilada sauce.
Cover the rolled enchiladas with more sauce.
Sprinkle more cheese over top.
Add sliced olives on top if desired.
Microwave until hot and cheese has melted. Times will vary so watch closely.
Serve with some Quick & Easy Spanish rice, black or refried beans, sour cream, and guacamole. 
Pan full of Enchiladas:
Spoon some enchilada sauce in the bottom of a 9″x13″ pan.
Prepare enchiladas as explained above for single-servings. Place enchiladas close together with the seam down filling the pan lengthwise.
Bake for 30 minutes in a 350 oven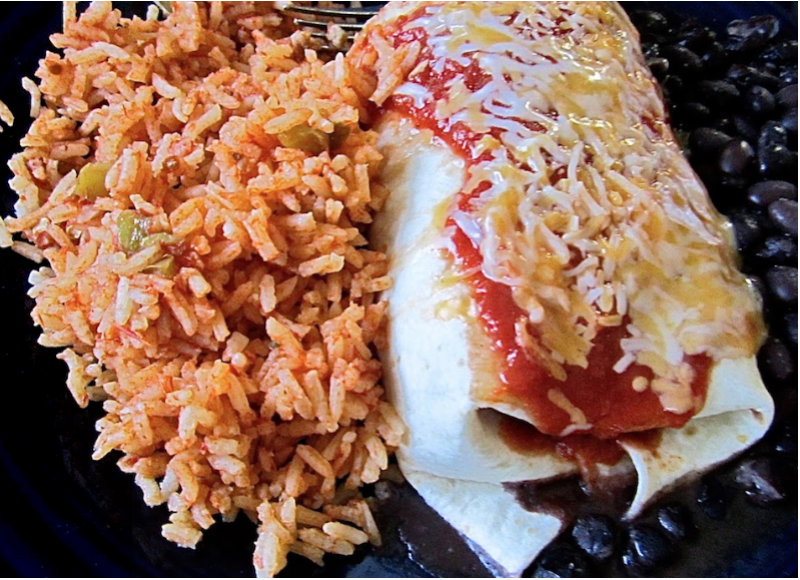 Enchiladas are perfect for potlucks, guests, and holidays.
What are the options as far as freezing?
Cheesy enchiladas can be prepared ahead and placed in a freezer-safe container unbaked or baked.
I use to freeze single servings, unbaked for my son for a quick microwavable lunch or dinner when he was in college. He could easily microwave one at a moment's thought.  Be sure to use good quality freezer containers.
Great idea for lunches too…as long as you have a microwave at work!
Enjoy!
Please pin and share : )
You might also like to try one of my absolute favorite quick and easy meals, Enfrijoladas.